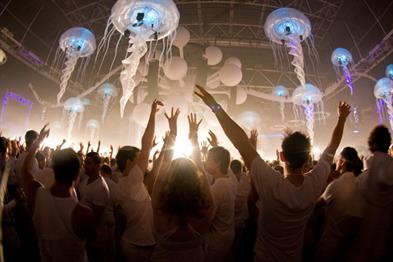 Smirnoff is to stage a dance music event in the UK, in a move to cement its brand positioning around nightlife and music. The new event called Smirnoff Presents Sensation will be held at the 02 arena in London on 13th August featuring acrobats, lightshows and sets by well-known DJ's. This sounds like a fab idea and hopefully will be more successful using their social media presence to its full advantage than their other project The Nightlife Exchange Project, an experiential event created by RPM agency.
The idea of the Nightlife Echange Project was brilliant, the TV ad's were great and I really do hope this new dance music event will be just as popular or heck a load more popular. I'm just hoping that their Facebook page will be able to handle the amount of people flooding to their Facebook page. When I tried with a colleague to go onto the Facebook page for the Nightlife Exchange Project we spent most of our time clicking on a link that went onto another page or link to another link and on and on and on. Within 20 minutes we were no longer interested in being apart of it or if we'd ever win and more annoyed that we lost 20 mins mucking about on the site.
RPM has approached students from Hatfield University and given them £4,000 to create a bespoke area at the Hatfield event, which will be held on Saturday 25 March.  Chris Lock, marketing director at Smirnoff, said: "The Smirnoff brand is all about originality and creativity, so what better place to look for inspiration than with imaginative students? "I'm really excited to see the suggestions from the students at Hatfield and I'm sure their contribution will add an exciting new element to the Smirnoff Nightlife Exchange Project tour". In January, Diageo GB, which owns the Smirnoff brand, increased its year-on-year digital spend for the spirit by 115%, to build on the Nightlife Exchange Project.
I'm looking forward to seeing what happens with this new project from Smirnoff. It will be very much interesting.