You've all probably seen the picture scattered at least a thousand times across some newspaper article, glossy mag or over the internet at some point where the model, none other than British Supermodel Rosie Huntington-Whiteley is seen wearing little else apart from a mac and well…that's it. If you've not seen it, you will now…
Ta daaaaa….
Rosie Huntington-Whiteley doing what a supermodel does best. Pose. Or Model. Or maybe just lying there equates to actually working. She's the 'new' face of Burberry's fragrance 'The Body.' No surprises there. Because she has in all fairness got the body for it. The new fragrance has been catapulted across various social media channels of late to promote not only the free sample of the fragrance but also the eagerly awaited perfume by the luxury fashion giant ready for its release this month. If you've not seen the app and taken it upon yourself to march past everyone else to bag yourself an exclusive sample of the Burberry Body fragrance, you are missing out my friend. The luxury fashion brand best known for their luxury clothing line, accessories and fragrances has created a Facebook app for their fans who've 'liked' their page and entered their details to receive the exclusive sample. The perfume named 'The Body' conveniently fronted by the one and only, stunningly beautiful miss pouter British supermodel Rosie Huntington-Whiteley. The perfume is predicted to fly off the shelves when released this month. The social media platform, Facebook – which helped launch luxury fashion house and designer Oscar de la Renta's flagship fragrance earlier this year, giving away 25,000 free samples in just three days and helping the brand's Likes grow by 40%.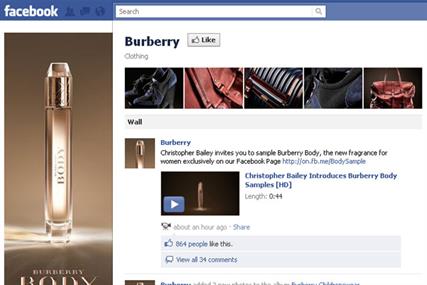 The 'tester' fragrances will only be available through this social networking site and with over 7.6 million fans, Facebook will ensure to hit a younger mass market that Burberry.com cannot afford to miss. Fans interested in obtaining the free samples can visit the Burberry Body tab on its official Facebook page and request a sample. With the company shipping samples to a large array of countries, every Burberry fan should hopefully be able to receive at least one per household. Burberry's chief creative officer, Christopher Bailey – who initiated media coverage via a live streaming of his own catwalk shows last season – announced the program via YouTube, which was then cross-pollinated on the official Burberry Facebook page. Fans are already reported as being supportive to the new structure and will hopefully boost sales when the fragrance comes out in stores next month.
I received my little bottle of the perfume last week and was a little overjoyed that I got a sample of it and my friends have yet to get a sample-if they haven't missed out already- as the retail price of the perfume will be on sale from £55. Something I won't be spending my money on if I'm honest. Don't get me wrong it smells lush and for one split second I can believe that I'm as lusciously gorgeous as Miss Huntington-Whitely. It's that thought of sitting on the Tube and smelling like every other lady in London who all bought the same perfume. It kinda throws the point of individuality out of the bloomin' window a bit, doesn't it. Rosie you are doing a splendid job and no doubt a winner in the eyes of all the men out there jumping over themselves to get a bottle for their girlfriends/wives to smell an ounce of the model's 'favourite' perfume. But seriously do you have to be naked but from a la mac to promote it. Put some clothes on!
The word of mouth buzz this smart little campaign will produce will hopefully bring in enough hype for the brand to drive launch sales and success for the new fragrance. The Facebook page for Burberry has more than 7.6 million faces and claims to be the largest Facebook Fan page of any luxury fashion brand. Fan-first sampling on Facebook should also increase the ROI of sampling for Burberry; sampling is highly effective for experiential and sensorial brands, but can be wasteful if a scattergun approach is adopted (sampling in-store, samples with products).  By allowing fans to order samples, Burberry ensure that Burberry Body ends up on bodies that want to wear it – and just as importantly want to talk about it.  So if you've yet to get your sample, what are you waiting for.  Click on the page, like away and wait for your little package to arrive in the post. Decide for yourself if this is something you'll invest £55 on and let me know what you think.